David Attenborough's latest TV series, Frozen Planet, is being heralded as his take on climate change. Now 85, he explains why - finally - he's speaking out on the issue.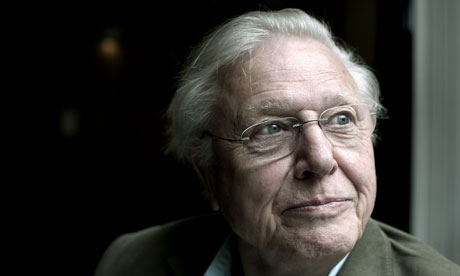 He explained to the Guardian
Newspaper
..'I'm not a propagandist, I'm not a polemicist; my primary interest is just looking at and trying to understand how animals work," says
David Attenborough
. We are talking in a gigantic
BBC
sitting room. Attenborough, wearing slacks, shirt and jacket, is a trifle unkempt at 85, but sharp as ever and kind, too, listening carefully as I ask what it felt like for the crew on his latest BBC series,
Frozen Planet,
to meet the Inuit people whose way of life is cracking up with the ice underneath them. I tell him I found this upsetting, but imagine he doesn't cry easily.
"No, I don't cry easily. Yes. [He pauses.] Yes, but there's inevitability about it.
The series, which is stunning, and took four years to make, has been heralded as Attenborough's take on climate change – though for most of it he is the narrator rather than author-presenter. But while it might look like a political statement for the BBC to invest a vast sum in seven hours of TV about the Arctic and Antarctic –
And so, in the final programme, Attenborough appears on location, talking to camera in his own measured words about shrinking glaciers, warming oceans, and the threat posed by man-made global warming. "The polar bear is the easy one, it's a very charismatic animal that people can identify with," he says. "It's beautiful, and also savage; it's got a lot going for it. But it's only a white grizzly bear, really. All these big issues need a mascot and that's what the polar bear is.
"But climate change is going to affect us all much more profoundly than the loss of the polar bear."
Source : the Guardian 22.10.2011